Bio-Active Silver Hydrosol - 2oz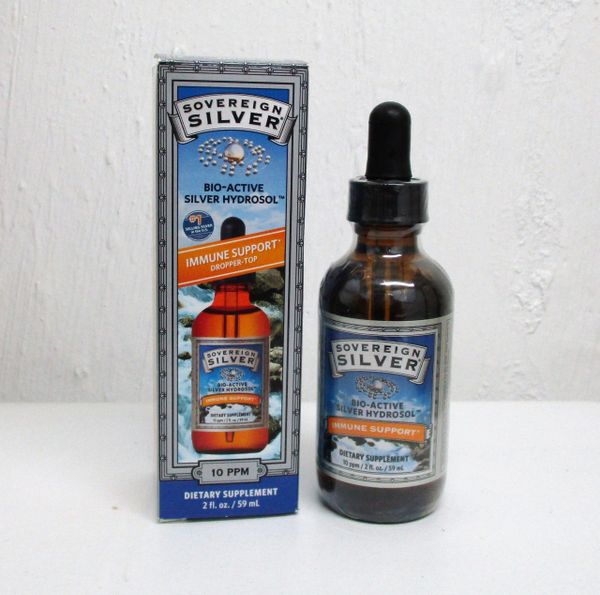 After years of use in our own aviary, we are pleased to bring you Sovereign Silver Bio-Active Silver Hydrosol.
Bio-Active Silver Hydrosol, otherwise known as Colloidal Silver, has been used since the late 1800's in countless applications. It represents the ultimate refinement of the colloidal silver category, containing 98% positively charged silver, in pharmaceutical-grade purified water. The unique silver species, with a verified and unmatched particle size, remains in its most active state for use within the body.
Many other brands contain (claimed or unclaimed) salts, proteins, compounds or stabilizers – all of which affect the safety and efficacy of silver. If silver is not positively charged it doesn't work well. At best, most Colloidal Silver products contain only 10% charges silver. Sovereign Silver contains 98% positively charged silver, making it exponentially more powerful than other brands.
The smaller the size, the easier it is for the body to absorb and eliminate. Sovereign Silver features an unprecedented particle size as small as 0.8 nanometers.
Why Bio-Active Silver Hydrosol?

Silver is effective for a wide range of minor topical issues. It reduces topical pain quickly, taking the sting out of skin irritations. It fights minor skin infections, allowing wounds to heal quickly, and promotes healing of the skin. It calms skin inflammation by reducing the swelling, redness and heat that often accompanies minor skin wounds.
Silver is naturally found in mushrooms, whole grains, water, and mammalian milk which are all part of an animal's natural diet. Peer-reviewed literature demonstrates the safety of silver in animals at 2,000 times the EPA Environmental Protection Agency Reference Dose for humans.
Recommended Dose for birds under 25 grams in weight:
In the drinking water as immune support - 1 drop per 2oz clean drinking water 2x per week
As a potent antibacterial wound wash - 1-2 drops directly on the wound, 3x daily until the wound has healed
As an eyewash - 1 drop directly into the eye, 3x daily until the wound has healed or infection has abated
NOTE: Use of this product is not intended to replace good Veterinary care. If you suspect your bird is sick, take it to your Avian Veterinarian for diagnosis and treatment.

Ingredients:
Silver - 50mg/teaspoon (6 drops = 1 teaspoon), pharmaceutical grade purified water