FD Quiko Special Egg Food - 1.1lb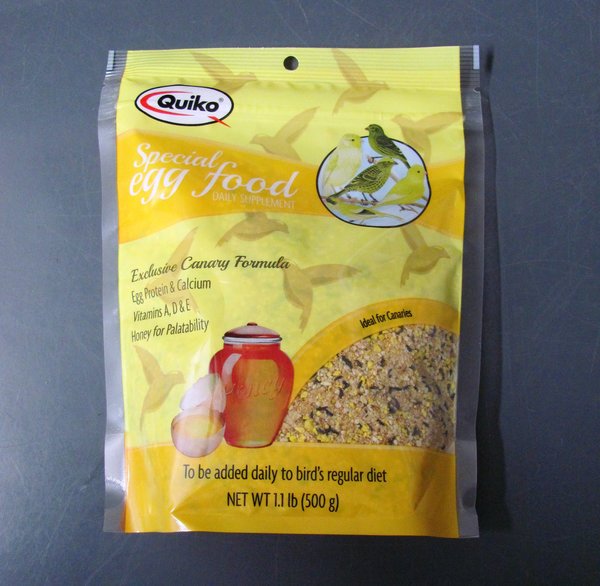 Why feed Special Egg Food?
A varied diet is key to having healthy birds. Unfortified seed diets are relatively low in protein and lack many essential vitamins. Pelleted diets do not offer variety and can be poorly accepted. Adding egg to any of these foods increases protein and vitamin levels of the overall diet.
Quiko Special is made exclusively for Canaries.

Made with real whole eggs, Quiko Special Egg Food has a very high bioavailability due to the excellent profile of amino acids present in eggs, which are the building blocks of protein. This means that the nutrients are readily available for the bird's system. Because most birds eat the egg food before anything else, it is also the perfect means to introduce additional vitamins or medication when necessary.
Directions:
Quiko Special Egg Food can be used in multiple ways:
Sprinkle 2 tbsp of dry Quiko Special Egg Food over your bird's diet.
Moisten 2 tbsp Quiko Special Egg Food with enough water or juice to make a moist crumble texture. Feed in a separate treat cup.
May be added to chopped fruit such as kiwi, grapes, bananas, or papaya or chopped greens such as kale, endive, romaine lettuce, or sprouts.
Since Quiko Special Egg Food is made with pure honey without the use of oils, a larger batch can be mixed and refrigerated for up to 1 week.

Ingredients:


Whole Egg, Wheat, Flour, Sugar, Honey, Dehulled Soybean Meal, White Millet, Sesame Seed, Vitamin A Supplement, Vitamin D3 Supplement, Vitamin E Supplement, Thiamine Mononitrate, Riboflavin Supplement, Biotin, Pyridoxine Hydrochloride, Vitamin B12 Supplement, Ascorbic Acid.