FD Quiko Goldy Egg Food for Insectivores - 14oz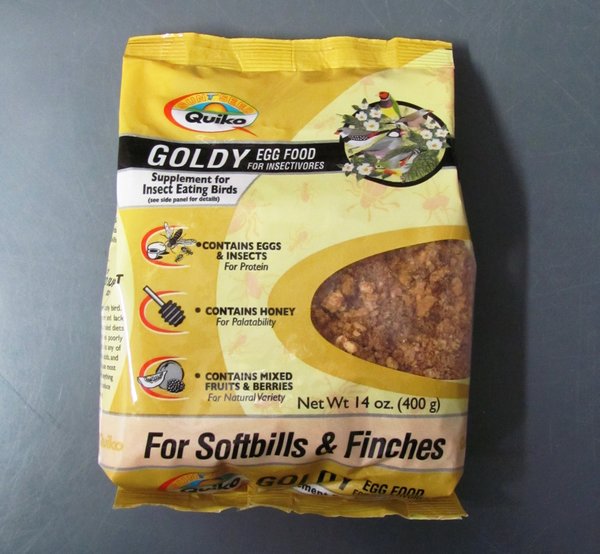 Why feed Quiko Goldy Egg Food?
Quiko Goldy can be fed to insectivorous birds and small softbills.

A variety diet is key to having healthy birds. Unfortified seed diets are relatively low in minerals and lack many essential vitamins. Pelleted diets do not offer variety and can be poorly accepted. Adding egg to any of these foods increases protein and vitamin levels of the overall diet. Made with real whole eggs, Quiko Goldy has very high bioavailability due to the presence of eggs, which contain the building blocks of protein. This means that the nutrients are readily available for the bird's system. Because most birds eat the egg food before anything else, it is also the perfect means to introduce additional vitamins or medication when necessary.
Directions:
Mix dry Quiko Goldy with your bird's regular diet. Up to 50% of your bird's diet can be Goldy.

Quiko Goldy can be fed to your bird in several ways:
In addition to a regular diet, feed Quiko Goldy in a separate feeding dish. Replenish as needed.
Moisten Quiko Goldy with enough water to make a moist crumble texture. Feed in separate treat cup - preferably ceramic or stainless steel - or mix with the regular diet.

Add to chitted or sprouted seed and serve in separate treat cup.
***REMOVE & DISCARD ANY UNEATEN FOOD DAILY. Store Quiko bag in a cool, dry place.
Ingredients

:
Egg biscuit (whole egg, wheat flour, sugar), honey, raisins, peanuts, mountain ash berries, elder berries, dehydrated ant eggs, dehydrated prawns, dehydrated shrimp, and dehydrated insects (waterflies).
Available in 14oz (400g) size