BR Plastic Outside Hang Canary Nest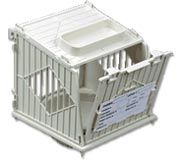 Our large, outside hang plastic nest is great for Canaries, Siskins, Goldfinches and even Gouldians and other finches. It ships flat but is easily assembled. It has outside-of-the-cage access to the nest from the back, a removable nest for easy cleaning, and top tray to hold eggs for those who replace natural eggs with Plastic Dummy Eggs until the entire clutch has been laid for same day hatching. The slotted back door holds a record card for identification purposes.

Use any one of our Nest Pads as a liner, or choose a nesting material and allow your birds to do their own thing!


Disassemble and wash or wash assembled - top rack dishwasher safe. Nice quality. With care, this nest will last for years.

***Colors may vary