Morning Bird Ronex Extra Strength - 1oz (Exp 9/18)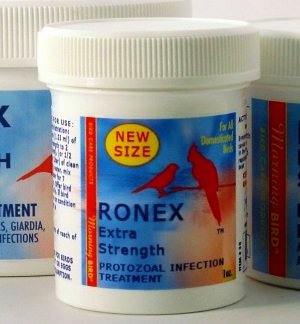 Ronex Extra Strength is a treatment for Trichomonas (Canker), Giardia and other protozoal infections. This 12% strength medication has been created specifically for the higher metabolic rates of smaller captive birds like finches & canaries. It should not be confused with Ronex, which is only a 6% concentration. Do NOT double or triple dose with this medication as you would with the regular Ronex!!
While Ronex Extra Strength is very safe, you should always check with your Avian Veterinarian before administering any type of medication. We have very few medications left at our disposal for killing protozoa. If your birds do NOT have protozoa and you administer this medication, the bird could build a resistance to the medication rendering it useless when you really do need it!
Please do not listen to Internet "experts". Most of them don't really have a clue about what is really wrong with your bird. Guessing is the last thing you should be doing! Unless you have experience with a microscope and can see protozoa in your bird's droppings or crop washes, you should take the bird to the Vet for verification. Your Avian Veterinarian is the only one who should be prescribing medications. The wrong medication can actually make matters worse or even kill your bird.

With that said, we've listed potential symptoms of protozoal disease. If you see these symptoms, take your bird to the Vet right away!

SYMPTOMS OF PROTOZOAL DISEASES:
"Canker" or large yellowish masses in the throat or crop
Weight loss
Regurgitation
Dried saliva around beak
Ronex Extra Strength successfully treats motile protozoa such as Trichomonas, Giardia, Hexamita, and Cochlosoma.
DIRECTIONS FOR USE:

Add 1/2 teaspoon Ronex Extra Strength to 2 quarts, (64 fluid oz., 8 cups or 1.89 Liters), (or add 1 teaspoon to a gallon, 3.8 Liters), of clean distilled water and administer for 7 days. Use as bird's only source of drinking water. If bird does not improve or condition worsens, consult your Veterinarian immediately.

PRECAUTIONS:
Keep out of reach of children. Not for use in birds whose meat or eggs are intended for human consumption.
ACTIVE INGREDIENTS:

Ronidazole 12%
OTHER INGREDIENTS:
Corn Maltodextrin
***WARNING - Not For Human Consumption. Keep out of the reach of children.
***Keep container closed before and after use.

***Store in a cool, dry place.