MLFAS, Inc. Soak Seed™ - 2LB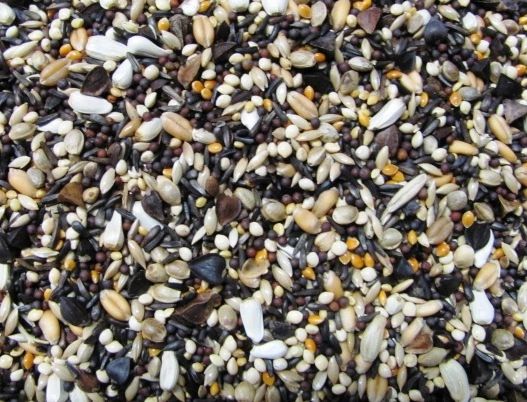 There's a difference between "chitting" seed and "soaking" seed. Chitted seed is allowed to soak for no more than 2 hours, then drained over night as we wait for the tiny "chits" or tails to first emerge. Soaked seed has been allowed to soak longer and is rinsed regularly until "sprouts" form. Sprouts are longer and more defined tails on the seed, and occasionally actual plants and not just tails in a shell. This mix is created to work with the Soak/Sprout method.
During breeding & molting, our MLFAS, Inc. Soak Seed™ offers the extra proteins and nutrients required to produce feathers and raise robust chicks.
DIRECTIONS:
We soak 8oz of MLFAS, Inc. Soak Seed™ in 16oz of a 1/2% solution of Virkon S (1 tsp per quart) OR KD Cleanser (1 tsp per quart) for up to but not more than 3 hours. Drain but do not rinse. Stir occasionally to keep from drying out. Cover with waxed paper and allow to sit overnight in a warm place. Some seeds will "chit" but not all.
Feed immediately. Remove uneaten portion from cage at end of day.

Place unused soak in covered container and store in the freezer for up to 1 year.
***Note - For "sprouts", allow the seeds to sit an additional day or two until seed tails are at desired length
CAUTION: Do not leave uneaten soak in cage more than 24 hours. Bacteria growth may occur and make birds sick.
***All of our seed is dusted with diatomaceous earth to deter pests