MLFAS, Inc. Citric Acid Crystals™ - 3 oz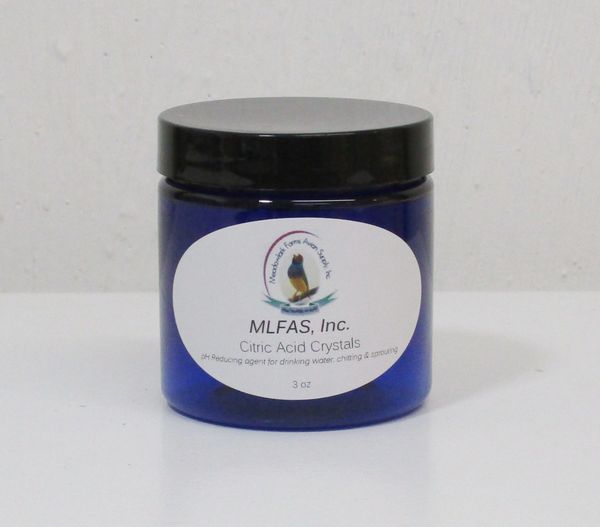 Citric Acid is a food grade acid that is present in many natural foods. It is an all-natural preservative typically found in citrus fruits such as lemons and limes. Citric Acid helps to inhibit the formation of mold and other bacterial growth, and all too common occurrence when sprouting or chitting seed due to high temperatures and humidity. It acts as an aid to digestion.
Read more about the reasons for and benefits of lowering the pH of the food & drinking water
HERE
.
---
Suggested Use

:




In the drinking water -



To bring the drinking water pH down to 5.3-5.5, first test the pH of your bird's drinking water. Add 1/4 tsp MLFAS, Inc. Citric Acid Crystals to 1 quart of water then test again. For water with a pH level of 7.0-7.2, it will take approximately 1 tsp Citric Acid to bring the water to 5.3-5.5, but it is best to test first and continue to test until you have a close approximation. Too much and the birds won't drink, not enough and it won't work!



When Chitting or Sprouting -



Use to reduce spoilage when sprouting or chitting by adding 1 teaspoon per quart to soak and rinse water.
Citric Acid is also useful in canning, drying or freezing foods. It can be used to preserve Vitamin C content, retard spoilage and prevent discoloration. Use 1 tsp per quart of water or juice for most fruits and vegetables.
---
Ingredients

:
Pure Citric Acid