CCA-D Drinker - 2oz BEST Plastic Drinker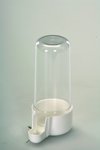 Our all time favorite 2 oz drinker is back for a limited time in limited quantity.
Short siphon lip, clear top. Easy clean - top rack dishwasher safe. Perfect size for daily water, or administering medications and supplements that may be offered in a plastic container (check your medication label before administering medications in plastic!).
4" X 2"
***Clear Only